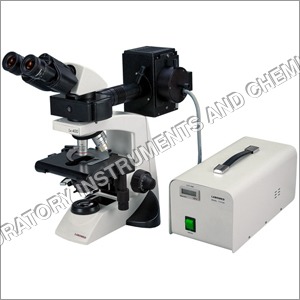 Research Fluorescence Microscope
Product Code : LX-400 EFL
Product Description
Research Fluorescence Microscope is used for studying the properties of organic and inorganic structures of various substances. It uses fluorescence and phosphorescence in place of absorption and reflection to create images. This microscope works on the principle of light of excitation wavelength that illuminates the specimen slide via objective lens. It uses xenon arc lamps or mercury vapor filters with excitation filter as its light source. Samples prepared for observing under Research Fluorescence Microscope must contain fluorescent stains or protein according to the type of specimen.
Features:
It is known to have the ability to distinguish between different types of antigens

Various colors can also be used to distinguish between different molecules

This microscope is ideal to be used for genetic studies
Product Details:
Brand- Lamomed
Application- Laboratory
Excitation- 450-480nm
Backed by profound experience of our experts, we are an unparalleled name engaged in providing a high-quality assortment of Lx400 eFL LED Fluorescence Microscope.

General Specifications:
Epi-illumination is a 100-watt high-pressure mercury lamp
B-Excitation block comprises
Excitation: 450-480nm
Barrier: 515nm
Dichroic: 500nm
G-Excitation Block Comprise
Excitation: 510-550nm
Barrier: 590nm
Dichroic: 570nm

Technical Specifications:
Stand: Single mould sturdy stand with anti rust materials.
Extended base with hand rests for enhanced stability and comfort.
Nosepiece: Reverse angle quadruple nosepiece (Ball bearing loaded) with click stops and rubber grip.
Par- centered & parfocal on CNC machines.
Mechanical Stage: Rackless X-axis, double plate mechanical stage size 200 x 160mm X/Y travel range 78 x 54mm.
Low drive movement controls.
Hard coated surface for scratch resistance.
Slide holder to accommodate up-to two slides.
Condenser: Sub-stage abbe condenser NA 1.25 with aspheric lens and Iris diaphragm.
Rack and pinion movements on stainless steel guides.
Day light blue filter provided
Focusing: Co-axial coarse and fine focusing on ball drive system for extremely smooth operation.
Sub-stage bright field illumination: Halogen 6v-20w illumination with variable illumination control.
Electrical: Input 220v-240v AC with removable imported cord.
Orange colored plastic screen to safeguard the operator from UV light.
Packed in Styrofoam box with operation manual, dust cover, cleaning cloth, power cord.
Contact Us
Cross Road No -5, Near BJP office, Grain Market, Ambala Cantt, Haryana, 133001, India
Phone :+917042176709