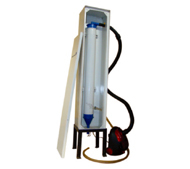 Corcyra Egg Cleaning Device Grain and Chaff Separator
Product Code : ENT 112
Product Description
Corcyra Egg Cleaning Device Grain and Chaff Separator
The device is used to separate the lighter material like chaff from the grain. It can also be used to separate scales from the eggs of Corcyra. The mixture is sucked into the system. The chaff or any such lighter material is moved upward in to the column and collected into the dust bag of the vacuum cleaner. The grain (Heavier) material is not lifted to that height and falls below. Based on the lightness of the regulato provided.
For separating
Switch on the vacuum cleaner.
Adjust the suction pressure by regulator as per requirement.
Collect the content through collection tube.
The chaff will be collected in the dust bag of the vacuum cleaner while the grains will fall down on switching off the device.
Contact Us
Cross Road No -5, Near BJP office, Grain Market, Ambala Cantt, Haryana, 133001, India
Phone :+917042176709