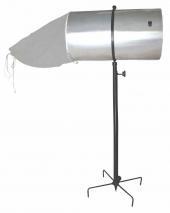 Aerial Insect Trap (Improved)
Product Code : ENT 102
Product Description
Aerial Insect Trap (Improved)
The Aerial Insect Trap Is Used to Monitor the Population of Flying Insects in Field. The Insects Enter the Trap by Their Own Flight or by Wind Drift. The Number of Catches Is Reatly Influenced of Wind Velocity. The Face of Th Funnel Orients Itself in the Direction of Wind and Changes With the Wind Direction.
Installation of the Trap in the Field :
Insert the Ring of the Hold Fast in the Upright.
Fix the Upright Firmly in Ground.
Fix the Prongs of Hold Fast to the Ring.
Press the Hold Fast in the Ground and Tighten the Screw of Holdfast Ring.
Tighten the Barrel in the Frame.
Fix the Metallic Loop in the Rear End the Barrel.
Put on the Net and Tie It With String.
Lubricated the Ball Bearing and Ensure That the Barrel Can Rotate Freely.
On Leaving the Barrel It Orient Itself Toward the Wind Direction.
After an Interval of a Day or Two, The Insects Are Collected. While Collecting Insects From the Net Loosen the Sring, and Remove the Net. Close the Mouth Quickly. Care Should Be Taken to Prevent Escape of Insects From the Net.
Put on the Other Net.
Bring the Net in the Laboratory to Study the Insects.
Contact Us
Cross Road No -5, Near BJP office, Grain Market, Ambala Cantt, Haryana, 133001, India
Phone :+917042176709